Fun in the Sun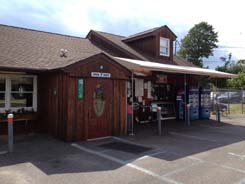 Nicky's Clam Bar is located at 99 Maple Ave. in Bayshore, in the marina for the Fire Island Ferry. This casual unassuming restaurant seats 30 and has a busy take out window catering to the dashing ferry patrons, all eager to get to their summer homes on Fire Island.


Inside Nicky's you're greeted with a rustic atmosphere, surrounded by glowing knotty pine and a nautical decor. Along one wall is a sit down bar with a full beer, Liquor and wine selection. The service is fast, friendly and fun.

NICKY'S WOULD LIKE TO WELCOME BACK ALL OF OUR PATRONS FOR THE NEW 2016 SEASON. DAILY LUNCH SPECIALS MONDAY THROUGH FRIDAY AND WEEKLY DINNER SPECIALS. ALSO TAKE ADVANTAGE OF OUR 4 COURSE PRICE FIXE MENU FOR ONLY $28.95 OFFERED FROM 3PM MONDAY THROUGH THURSDAY. COUPONS NOT VALID ON PRICE FIXE MENU OR ANY OTHER PROMOTIONAL OFFERS. WE ARE OPEN MONDAY-THURSDAY AT 10 AM AND CLOSE AROUND 8:30 PM FRIDAY SATURDAYS AND SUNDAYS WE ARE OPENED FROM 10 AM -9 PM UNTIL FURTHER NOTICE. WE ARE TAKING CALL AHEAD SEATING WHICH WILL LIMIT YOUR WAIT TIME FOR VALENTINES DAY WEEKEND WHICH DOES NOT GUARANTEE A TABLE AS SOON AS YOU WALK IN BUT WILL PUT YOU AHEAD OF THE LIST. ALSO NICKY'S WILL BE HIRING FULL TIME WAIT STAFF AS WELL AS PART TIME. COME ON DOWN TO FILL OUT AN APPLICATION. EXPERIENCE NECESSARY . WE LOOK FORWARD TO ANOTHER WONDERFUL SEASON HERE AT NICKY'S CLAM BAR AND OUR NEWLY RENOVATED SISTER RESTAURANT NICKY'S ON THE BAY. .br>
Nicky's sells:
$35 - Pullover Shirts
$35 - Zipper Ups
$30 - Long Sleeve
$25 - Tee Shirts

Lunch, Dinner, Snacks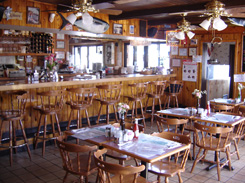 Whether you're looking for a comfortable place to have drinks or a full dinner, Nicky's is the place. The menu is extensive with seafood very definitely the main attraction. All the dishes are personally prepared by Nick Parini's son (head chef) Joey. The choices are plenty, whether its a burger, hot and cold wraps, salad or a full course dinner of the Fresh Catch of the Day, Lobster, Soft Shell Crab, Clams on the 1/2 Shell, Oysters on the 1/2 Shell, Linguine with Clam Sauce, Seafood Au Gratin, please see our menu for our entire selection.

So come by and say hello, relax with a glass of wine and enjoy our delicious clams. You'll be glad you found this little spot that you will feel comfortable in the moment you sit down. Hope to see you soon!!!

Visit our Other Location - Nicky's On The Bay
www.NickysOnTheBay.com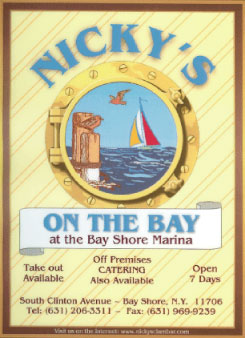 About to hop off the ferries... Don't forget about Nicky's On The Bay (www.NickysOnTheBay.com).

Stop in to our casual dining room for a delicious breakfast, lunch or dinner. You'll be surrounded by the beautiful views of Bayshore Marina while you dine on any one of our burgers, salads, Italian entrees or seafood specials. We're the perfect place to stop before you head out for a day of fun on the ocean. Grab some of our delicious food to go and enjoy it on the boat. Or just stop in after your fun in the sun for a perfect end to a perfect day!
Nicky's

Pullover Shirts $35
Zipper Ups $35
Long Sleeve $30
Tee Shirts $25